Texas Leads the Way in Health Insurance Competition
Complete Coverage
By: TAHP | Monday, October 30, 2023
Open enrollment for individual coverage starts Nov. 1st, and Texans have more choices than ever.
Leading the pack in health insurance competition: For three years running, Texas stands out with the most competitive individual health insurance market in the U.S. With 15 insurers offering diverse plan options, the Lone Star State is unmatched in insurer participation.
Urban vs. rural: Major cities like Austin and El Paso have ten insurers each, while Houston has seven.
Impressively, rural areas are also seeing increased competition.
In 2023, only 28 counties have a single insurer, a significant drop from nearly 100 in 2018.
By the numbers: Texas leads the nation not just in insurer competition but also in enrollment growth. Over 2.4 million Texans enrolled in a plan through healthcare.gov in 2023, marking a 400% surge in Texans opting for coverage outside of employer plans.
Why this matters: More competition translates to more choices and lower premiums. This means that Texans have even more opportunities to select affordable coverage that meets their family's health care needs and budget. Texans can now find plans tailored to their specific requirements and costs, be it lower premiums, broader networks, or access to a range of specialists.
Competition drives down costs: Since 2019, as insurer competition has steadily grown, average premiums have seen a decline of 6%.
That tracks an earlier analysis showing that for each additional insurer competing in a marketplace, premiums drop between 2.8 percent and 4 percent.
Competition = increased choice: With the growth in the number of insurers, Texans have more options than ever.
In Harris County for example, 7 insurers offered 125 different plan options—ranging from high-deductible plans with minimal premiums to plans with low out-of-pocket costs but higher monthly charges.
New innovative benefit designs often give patients—even those in high-deductible plans—free primary care.
Rise of Telehealth: Telehealth is becoming a dominant feature of plans with new app-based benefits that get you quickly connected to a health care provider.
How far we've come: In 2019, over a third of Texas counties had just one insurance company offering coverage, with only eight insurers operating statewide. Fast forward to 2023, and only 11% of counties are limited to one insurer, with 15 insurers operating across the state.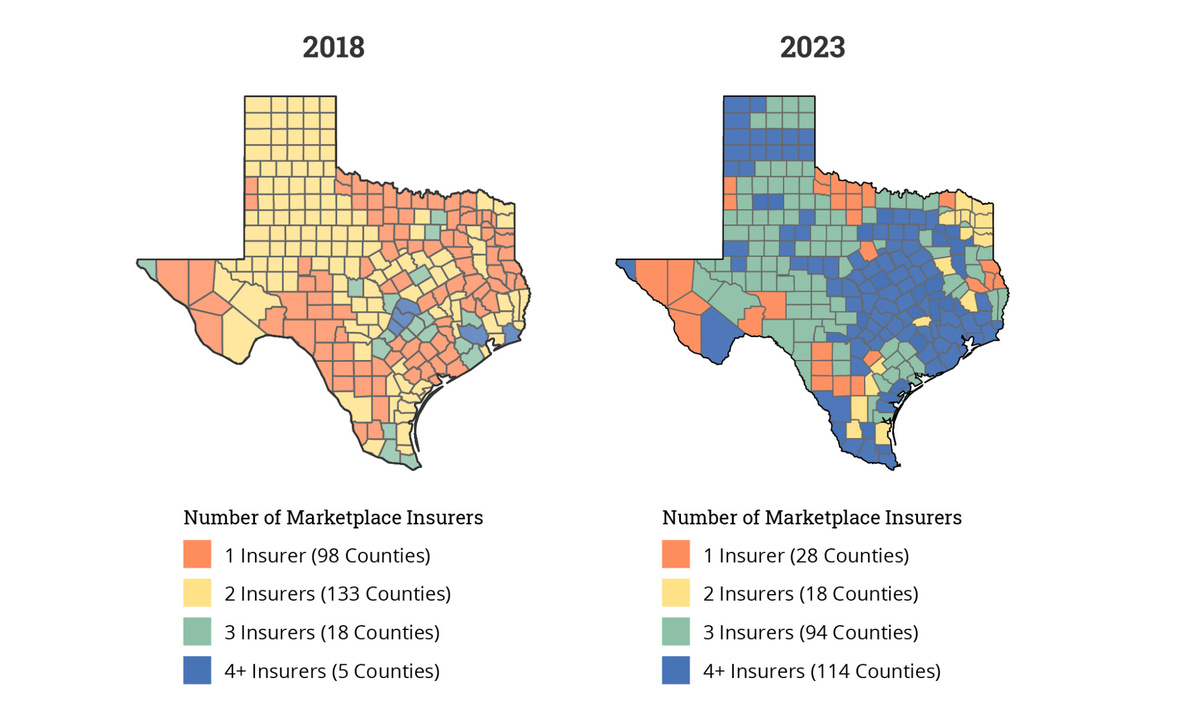 Diverse players drive innovation: The market now boasts a mix of tech startups, community plans, and national insurers, enriching the diversity and innovation of health plan options.
Stability matters: In the early years of the ACA, unexpectedly high costs from pent up demand combined with political uncertainty drove many insurers out of the marketplace. Now, with a more stable and affordable market, not only are more insurers being encouraged to participate, but more Texans are also finding it more affordable to enroll.
Stay tuned: Keep an eye out later this year for an update on the number of insurers by county. As the market continues to innovate and adapt, we can expect even more participation and enrollment.
Stay updated on the latest TAHP news
Articles written by TAHP's team of policy experts that examine the research, trends, and impact of the most important health care policy issues facing Texas and the country today.
Weekly news clips assembled by the TAHP team that highlight the top headlines from the health insurance and health care worlds, as well as important political updates.